Zurück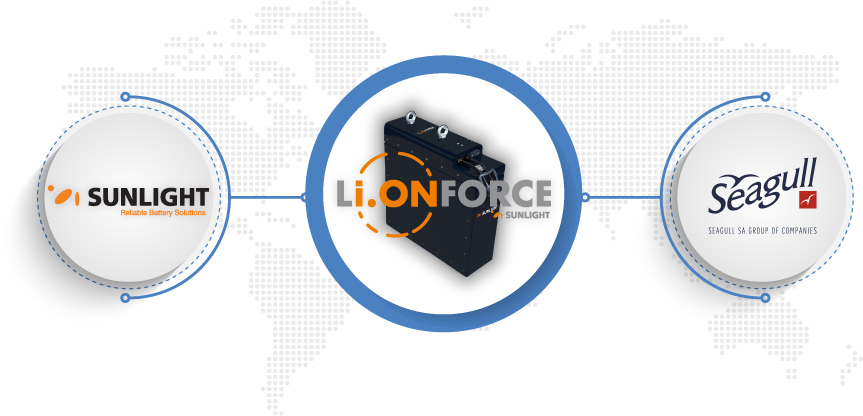 Sunlight Group and SEAGULL strategic partnership on lithium batteries in the supply chain sector, with a strong environmental footprint
SUNLIGHT, a member of Olympia Group and a leading technology company in the production of batteries and energy storage systems, is participating in one of the largest strategic partnerships of recent years in Greece, with a critical role in strengthening green infrastructure and investment through the use of lithium batteries.
SEAGULL SA, an international transit and logistics company; and SUNLIGHT, a leading manufacturer of batteries and energy storage systems – are joining forces for a strategic partnership, resulting in the provision of an integrated lithium battery solution that will cover the energy needs of the new, modern storage and distribution centres of SEAGULL SA in Attica and Thessaloniki.
SUNLIGHT's range of revolutionary lithium batteries combines the important advantages of lithium technology batteries – including high performance in demanding applications, 17 safety levels, long battery life, and high energy storage capacity, as well as low cost of use – the innovative application of Industry 4.0 technologies to the industrial use of Internet of Things technologies.
SEAGULL is investing in a fleet of high-quality forklifts from Crown Equipment, SUNLIGHT is suppling state of the art lithium batteries. CROWN's safety, quality and reliability under the toughest conditions, in combination with the modern and clean energy of SUNLIGHT's lithium batteries, was a deciding factor in SEAGULL's decision. The package of CROWN trucks and SUNLIGHT's lithium technology is a major advantage, increasing productivity and reducing energy costs for SEAGULL and its customers. This investment is one of a series of actions by SEAGULL that are positively impacting its environmental footprint through conversion to all-green equipment at its warehouses.
The partnership of major global players places Greece at the centre of international developments in the transformation of the supply chain sector, highlighting the value of green investment in a field of critical importance during the crisis brought about by the COVID-19 pandemic.