Go back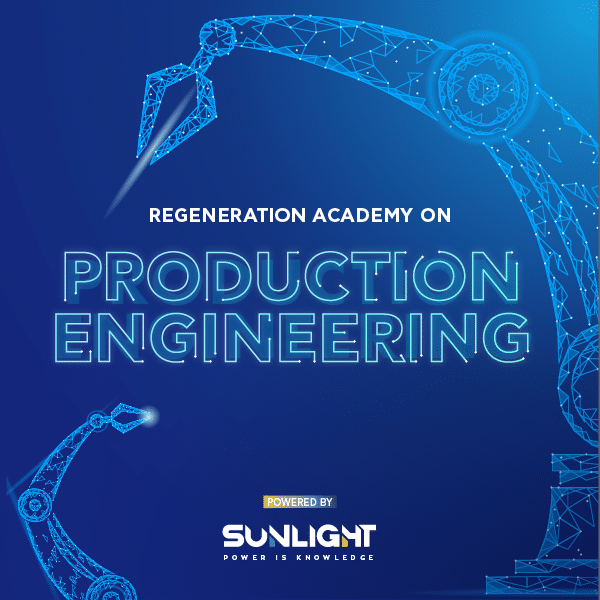 Sunlight and ReGeneration launch 1st Academy on Production Engineering for young graduates
90 hours of training in the sought after sector of Production Engineering with the aim to train and employ engineers, focusing on northern Greece
ReGeneration, the biggest employment and education program for young graduates, and Sunlight, a technology company specializing in integrated and innovative energy storage solutions, launch the first ever "ReGeneration Academy on Production Engineering, powered by Sunlight."
It's an innovative training program in Production Engineering, with the aim to educate, specialize, empower, and employ young graduates, focusing on northern Greece.*
The Academy's educational program has been designed by ReGeneration and Sunlight, and will be implemented with the collaboration of Code.Hub and the academic support of the Athens Tech College. It's addressed to graduates of Polytechnic Schools (Electrical Engineers, Mechanical Engineers, Chemical Engineers, Production or Environmental Engineers) and STEM (Science, Technology, Engineering and Mathematics), offering candidates 90 hours of specialized theoretical and practical training.
Participation at the Academy will offer graduates the opportunity to effectively contribute to a company's production processes, from both a scientific-technical aspect (i.e. as engineers), as well as an administrative one; to learn about industrial production and develop and enhance their skills, working alongside the best of the sector.
Pursuing the vision to power the world through knowledge and become a source of empowerment, Sunlight invests in creating the next generation of executives who will support the company's mission to develop innovative solutions and applications that improve people's lives.
Interested parties can learn about the conditions for participation and submit their applications by visiting: https://www.regeneration.gr/regen-academy/production-engineering-sunlight
Applications will remain open until 14:00 (GR time) on 23 November 2021.
The 6-week program (13 December 2021 – 4 February 2022) will be held online in a virtual classroom
*Candidates from northern Greece will be prioritized, as the available employment opportunities mainly –yet not exclusively– regard that area.