Go back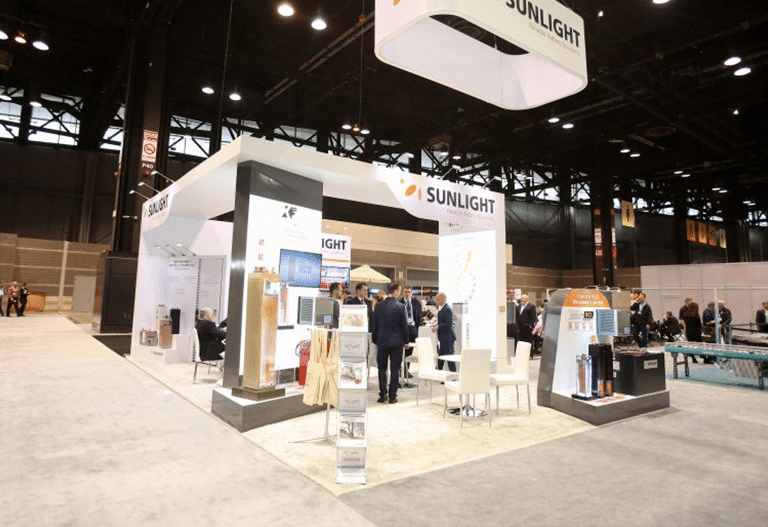 Very Strong Presence of the Sunlight Group in the leading international trade show PROMAT 2019
First, official launching of the revolutionary lithium-ion battery series, LiON FORCE in the American market
SUNLIGHT, member of Olympia Group, participated in the leading international trade show PROMAT 2019 which is a premier global event in the areas of supply chain, transportation equipment and material handling. The trade show took place between April 8-11, 2019, in Chicago, USA, and via its presence SUNLIGHT further strengthened its positioning in the strategic markets of USA and Canada.
By continuing its especially successful activation in the markets of North America for 6 years now, SUNLIGHT presented during the PROMAT 2019 event, the full product range of industrial batteries and chargers for application in electrical industrial vehicles (eIVs) to some of the most important international players of supply chain industry, therefore further enforcing its commercial network expansion in the area.
Apart from the lead acid based solutions of high quality and credibility which comprise the main product category traded by SUNLIGHT, the Company officially presented in PROMAT 2019 the new revolutionary series of "smart" technology lithium-ion batteries under the name LiON FORCE. More specifically, in the international exhibition PROMAT 2019, SUNLIGHT presented for the first time on a global level the new series of its innovative batteries combining the advantages of revolutionary lithium technology and the ultra-modern technology application Industry 4.0. By possessing 17 safety levels with multiple certifications, strong building structure, easy use and high performance rates, LiON FORCE series proved in practice during the PROMAT 2019 event that they differentiate from any other product available in the international market.
More than 300 delegates of various companies visited the exhibition stand of SUNLIGHT during the trade show and had the opportunity to collect information, discover and appreciate in person the top quality of the Company's products which reflect the strong knowhow, the multiyear experience, the precision and excellence in design, construction superiority and the unique use of top quality raw materials which imply a high competitive advantage for SUNLIGHT. All Company's products are being produced and manufactured according to the highest international standards so that they satisfy on absolute manner the needs of the highly demanding North American market.
Taking the opportunity of SUNLIGHT's presence in the exhibition PROMAT 2019, Lampros Bisalas, Chief Commercial Officer of the Company stated the following: "The participation of SUNLIGHT in the international trade show PROMAT 2019 is the outcome of the very successful planning in our commercial policy regarding the critical North American market. Through our presence in important exhibitions as well as via strategic partnerships with other international players which activate locally, SUNLIGHT acquires a strategic positioning with the aim to further boost the development of its business activities in the particular market."