Torna indietro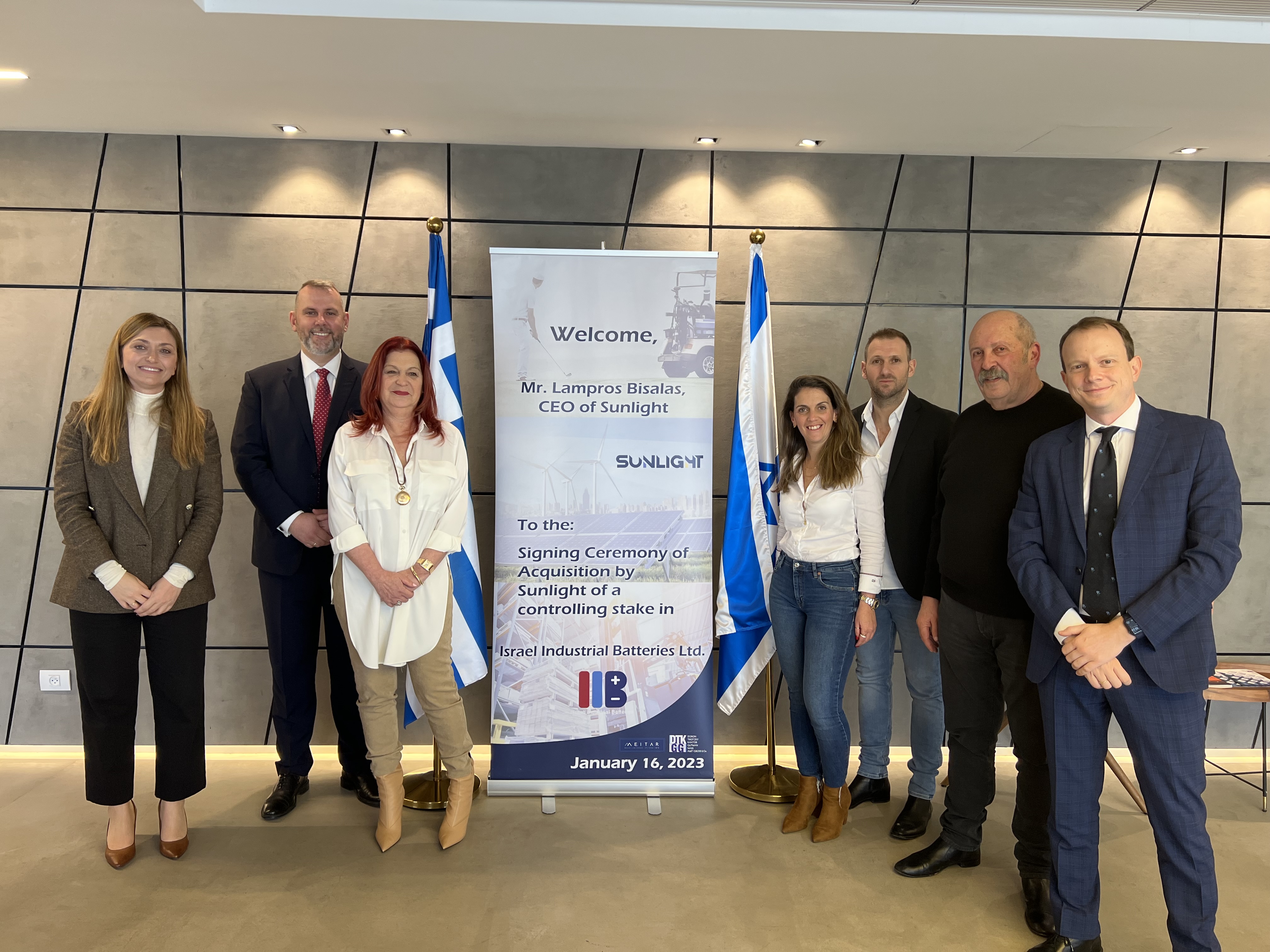 Sunlight Group stabilisce una forte presenza in Israele e nella regione MENA attraverso l'acquisizione di Israeli Industrial Batteries (eng)
Notizie aziendali
Articoli importanti
Atene, Grecia, 14 febbraio 2023
Sunlight Group Energy Storage Systems, a member of Olympia Group and global technology company specializing in integrated and innovative off-road mobility batteries for intralogistics and Energy Storage Systems for RES, continues expanding its activities and operations via the acquisition of a 51% stake in Israeli Industrial Batteries (IIB) Energy Storage Systems Ltd, which specializes in the assembly and distribution of industrial batteries and energy storage systems in Israel, the Middle East, and North Africa (MENA region). The acquisition agreement solidifies the successful business collaboration between the two companies over the past decade.
IIB is a dynamic producer and distributor of industrial batteries for various applications, and leader in the respective Israeli market since its incorporation in 1992. The company is privately owned and operates a fully automated plant for the manufacturing of lead-acid flooded stationary batteries. IIB holds the lion share of the electric forklift batteries market in Israel, as the main supplier for OEM truck dealers and importers – including BT-Toyota, Hyster, Yale, Jungheinrich, Linde, and Still. Among its clients are also supermarkets and franchise chains, logistic centres and more. In addition, IIB is a leading supplier of stationary batteries for UPS and telecommunication applications for the Israeli Ministry of Defense, telecom companies like Bezeq (Israel national telecommunication company), PHI, Hot Mobile, and Motorola. Moreover, the company's line of products includes special and innovative aerospace and advanced batteries. As of 2004, IIB became active in energy storage systems for renewables and since 2020 the company has also been introducing to its markets lithium-ion batteries for industrial motive and stationary applications – a growing segment of the energy storage sector worldwide.
The acquisition agreement of 51% of the share capital in IIB was signed in Tel Aviv, Israel, on 16 January 2023 by Lampros Bisalas, CEO of Sunlight Group Energy Storage Systems, and Ady Segal, outgoing CEO of Israeli Industrial Batteries Energy Storage Systems. Ady Segal shall remain in the company further supporting its growth, as a 49% shareholder, non-executive Chairman, and advisor to the new management, while Erez Pinto shall be appointed as IIB's CEO and Managing Director. The two companies shall continue their autonomous commercial operations, while collaborating and leveraging synergies to optimally service the local Israeli, middle-Eastern, and North African markets.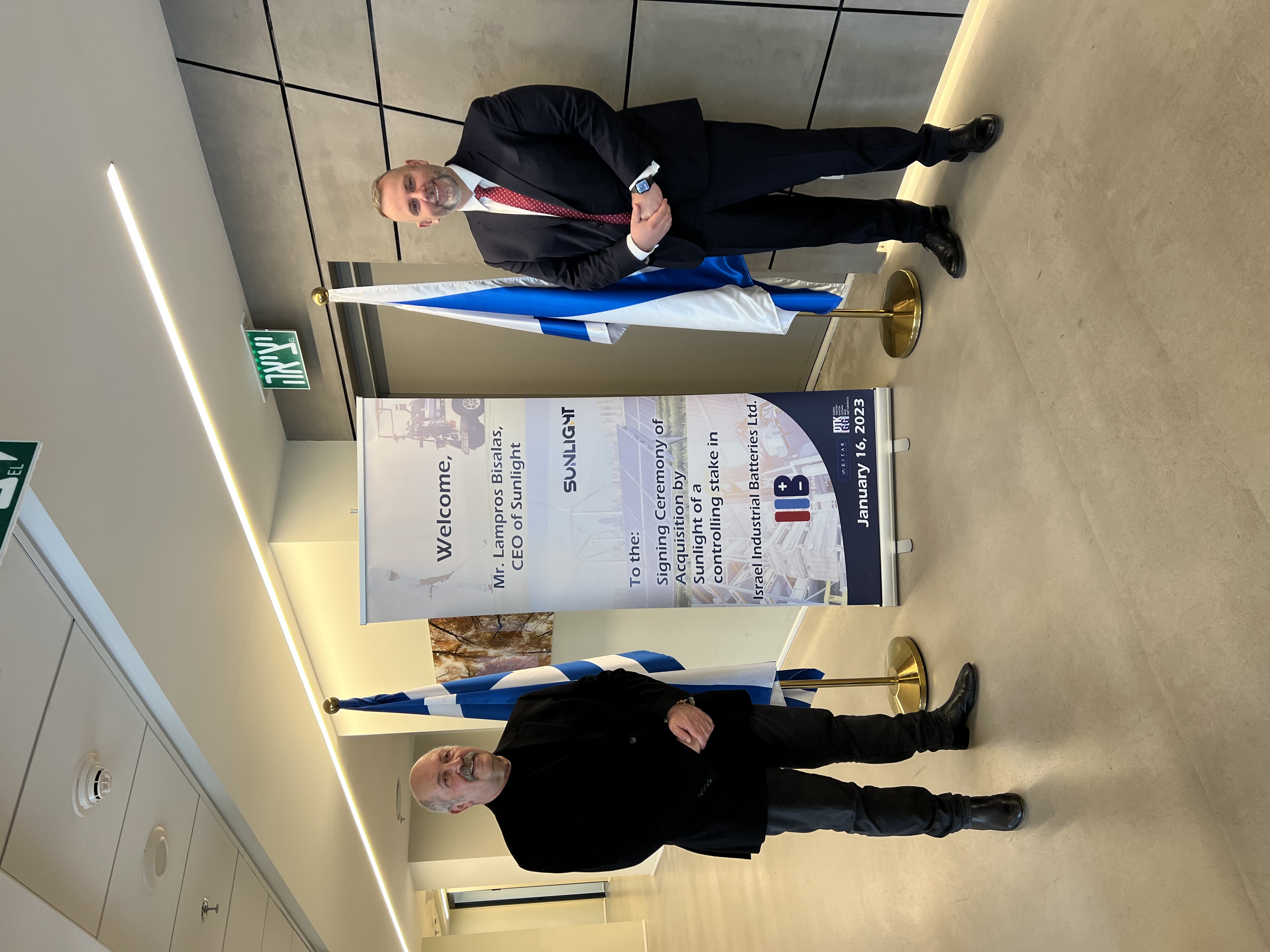 Commenting on the agreement, Lampros Bisalas, CEO of Sunlight Group, noted: "We continue as dynamically as we ended the previous year: with yet another significant acquisition of a long-standing and trusted partner in the distribution and service of our products, and major player in motive power batteries and energy storage systems. This agreement furthers our objective for global leadership in motive power batteries for the intralogistics sector and Energy Storage Systems for renewables. It also deepens and expands our geographical reach in the MENA region, while strengthening our workforce with experienced and specialized employees. We shall leverage the production capacity of the company's assembly plant in Israel and its proximity to the promising markets of Middle East and Africa to expand our distribution and service reach via IIB's local network. In addition, we shall support our partners in enriching their offering with innovative Sunlight products from our extensive lithium-ion and lead-acid portfolio. As always, we're ready to support the independent growth of the companies we're adding to our Ecosystem, assist them to achieve their full potential, and realize their vision. We want to see our companies growing and flourishing and are excited to celebrate their successes. I'd like to thank the teams who were involved in completing this acquisition agreement and our shareholders for their steadfast support in the implementation of our robust business plan. I'm looking forward to working with the IIB team and pursuing our common goals."
On behalf of Israeli Industrial Batteries, shareholder and non-executive Chairman, Ady Segal stated: "Following a long and stable business relationship with Sunlight and realizing the progress done in the last years in technology and products, we at IIB –a family company– decided to connect our future to a strong partner with very capable and trustworthy people and on a major growth trajectory. We believe that this partnership will be fruitful for both companies and their employees."
Erez Pinto, IIB's new CEO and Managing Director, added: "Our business collaboration with Sunlight Group started in 2014. At that time, we found a thriving motivated company that shared key IIB values; a company, with whom we have continued deepening our cooperation over the years. Becoming a part of Sunlight Group is therefore a natural course for us, and we'll use our synergies to take both companies forward and towards greater success. This acquisition is an important step in our strategy to remain the leader of industrial batteries market in Israel with our uncompromising professionalism and pursuit of innovation. This partnership will also be a catalyst in further developing our business in the interesting markets of Middle East and Africa. I am looking forward to expanding the collaboration and building on the teamwork with Sunlight."