Go back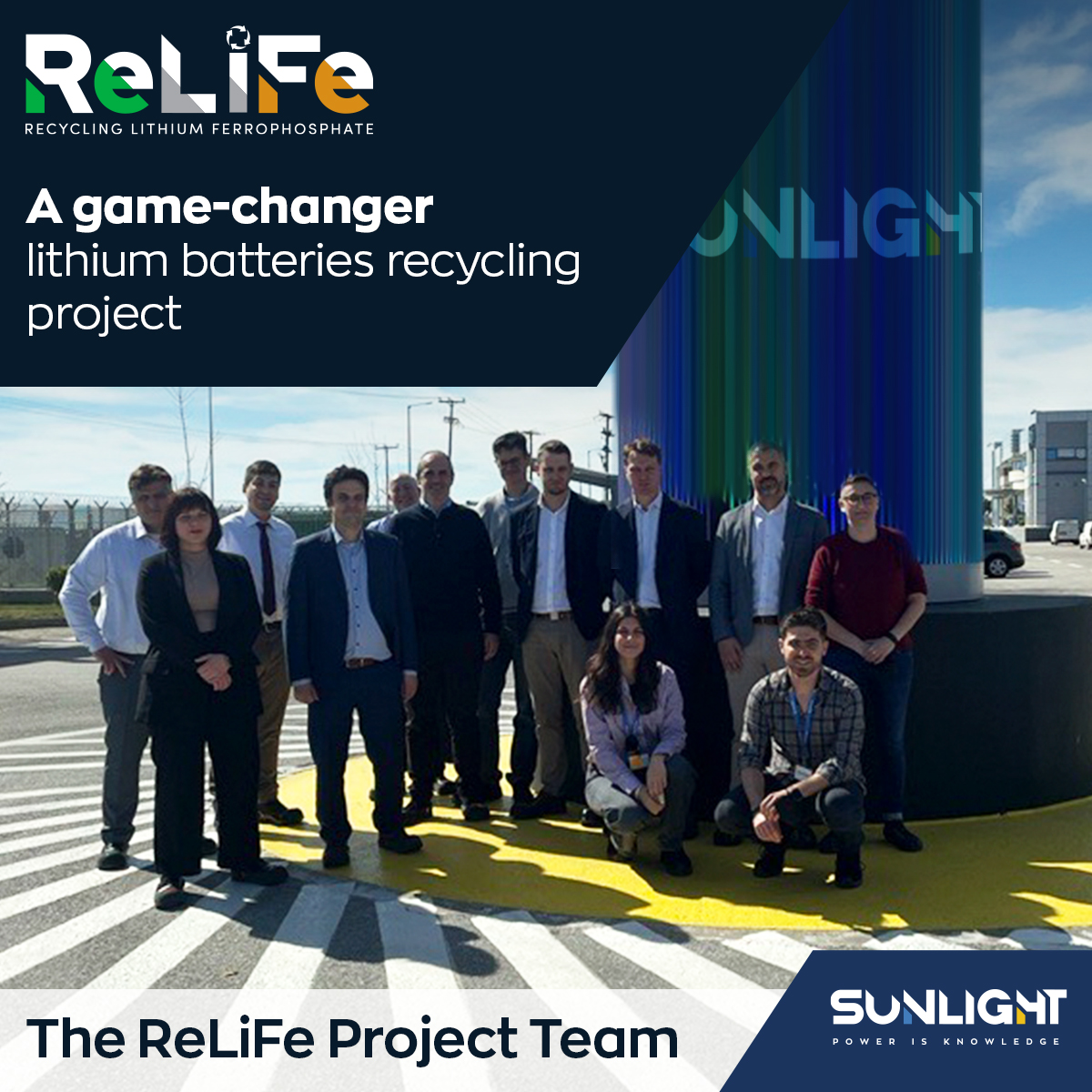 Launch of ReLiFe: A game-changer lithium batteries recycling project from Sunlight Group and partners
Corporate news
Insights
Sustainability
Xanthi, 22 March 2023
Innovative collaborative initiative receives EU funding to support lithium-powered e-mobility, vertical integration, and energy transition
Sunlight Group Energy Storage Systems announces that the innovative lithium batteries recycling ReLiFe Project, developed in collaboration with a consortium of partners, has been awarded ca. €3.6m in total funding from EIT RawMaterials, and begins implementation. The partners are also contributing ca. €1.5m of their own funds to the project. 
The ReLiFe Project addresses the EU directive regarding batteries and relevant targets for material recovery and will run for three years, from 1.1.2023 to 31.12.2025. Its initial aim is to establish a pilot plant with a recycling capacity of 500 tn of lithium batteries per year at Sunlight Group's production facilities in Xanthi, northeastern Greece. The pilot plant will be the first of its kind in SE Europe and one of very few such facilities worldwide. It will recycle all sizes of lithium-iron-phosphate (LFP) batteries – i.e., the specific type already produced by Sunlight Group in its Xanthi industrial complex and newly-established facility in Mebane, North Carolina. The plant can also recycle scrap materials to be generated during Sunlight's production of prototype LFP cells in the pilot line under implementation, with a recovery rate of >95% and lithium carbonate purity level more than 99%.
The implementation of this ambitious project meets a series of core EU targets regarding Critical Raw Materials (CRMs), sustainability, energy transition, and circular economy. ReLiFe stands for Recycling Lithium Ferrophosphate and is a decisive step to address one of the most pressing global energy-related needs: developing effective ways to recycle lithium-ion batteries, themselves the driver of a carbon-free all-electric future, and ensure sustainability.
Following the successful operation of the pilot recycling plant, additional capital investments can ramp-up production and establish a full-scale recycling facility of lithium batteries with an annual capacity of thousands of tonnes. This development will allow for the recovery of three EU-critical raw materials from end-of-life and scrap LFP batteries (namely lithium, iron phosphate, and graphite), strongly supporting circular economy. Additional base metals like copper and aluminum will also be retrieved in the process.    
Commenting on the awarding of the funding and implementation of the ReLiFe project, Dr. Nikolaos Tsiouvaras, CTO at Sunlight Group Energy Storage Systems, noted: "This is a true game-changer and the first step to establish an industrial-grade LFP recycling plant in Europe. At Sunlight we have been investing time and resources to identify the optimal way of recycling lithium products, as efficient as our EMAS-certified lead-acid battery recycling operation."
Carlo Novarese, Director of Lithium-ion Cell Engineering at Sunlight Group, added: "We are embarking on this significant project with the best possible partners to develop an effective and sustainable recycling method for LFP batteries. We are contributing 30+ years of manufacturing experience, state-of-the-art facilities in our industrial complex in Xanthi, and the know-how of our excellent team. We're very excited about this!"
Project Coordinator and Recycling Expert at Sunlight Group, Dr. Panagiotis Xanthopoulos, stated: "ReLiFe is a very significant project with huge potential. Its implementation will further enhance the strategy of vertical production for lithium-ion batteries that supports key EU energy targets, strengthens the supply chain, and –most importantly– conserves finite and critical raw materials, such as lithium, graphite, and phosphorus, through environmentally and economically friendly metallurgical methods. I'd like to thank all collaborating partners for their hard work in submitting our innovative project for funding, and for their commitment to work even harder to deliver it."
ReLiFe received ca. €3.6m in funding from EIT RawMaterials. Antonis Politis, Project Officer and Senior Business Development Manager at EIT RawMaterials, commented: "The vision of EIT RawMaterials is to enable a Europe that bases its industrial strength on a cost-efficient, secure, and sustainable supply of raw materials – especially critical ones. LFP batteries are an important source of critical materials as they are using lithium-iron-phosphate for their cathode material, and a graphitic carbon electrode with a metallic backing for the anode. The recycling of LFP batteries, therefore, is crucial in differentiating and securing the supply chain. ReLiFe is a flagship project towards this direction and EIT RawMaterials with its toolbox, network, and services will act as enabler for the commercialization of ReLiFe outputs."

Furthering the project's environmental goals, the treatment process to be applied in the implementation of ReLiFe involves significantly lower CO2 emissions (90%) and overall costs (30%), compared to current recycling processes, which strongly supports EU energy and sustainability targets. And not only that, as ReLiFe also addresses three key UN Sustainability Development Goals: SDG9 on Industry, Innovation, and Infrastructure; SDG11 on Sustainable Cities and Communities; and SDG17 on Partnership.
The diverse partners comprising the ReLiFe consortium are also contributing €1.5m in own funds for the implementation of the project. The consortium represents a unique mix of academic and industrial partners well-geared towards the goal of establishing an optimized plant for LFP battery recycling. The TU Bergakademie Freiberg (TUBAF), a renowned university in the field of end-of-life product recycling is leading technological development in collaboration with experienced entities, such as the Helmholtz Institute Freiberg (HIF) and MONOLITHOS. Küttner is an established and multi-sector plant engineering company that will support the consortium to develop a fully operating pilot plant design. Greenhouse Investment Group, an Ireland-based Europe-focused enterprise with an integrated approach to capital markets, will conduct the Market, Business Plan and Risk analyses. Sunlight Group is coordinating; its team will oversee and tailor the project's development to battery production needs and accommodate the actual LFP battery recycling at its premises. Lastly, the complete life cycle of an LFP battery will be assessed by SE&C to fully demonstrate the environment-friendly properties of this specific battery type.
The consortium of partners consists of:
Greenhouse Investment Group: Renewable and sustainable energy development and trading company with operations throughout southeast Europe, Italy, the UK, and Ireland.
Helmholtz-Zentrum Dresden-Rossendorf (HZDR) and Helmholtz-Institut Freiberg für Ressourcentechnologie (HIF): HZDR conducts cutting-edge and application-oriented research, focusing on energy, health, and matter. Under HZDR, HIF focuses on the sustainable circular economy of minerals and metals. Its research team includes multiple scientific disciplines from exploration, processing, metallurgy, analytics, and modelling and valuation.
Küttner GmbH: Technology supplier operating internationally in a wide range of industries. Employs experienced industrial plant engineers and provides planning, procurement, and project management services.
MONOLITHOS Catalysts & Recycling: Company with 18 years of experience in the manufacturing, regenerating, and recycling of automotive catalytic converters and Diesel Particulate Filters (DPFs).
SE&C: Independent research and innovation SME, committed to working towards sustainable development in Energy, Environment, Transport, ICT, Tourism, and Urban Mobility.
Sunlight Group: Technology company and provider of innovative industrial energy storage solutions, specializing in lead-acid and lithium-ion batteries and energy storage systems.
Technische Universität Bergakademie Freiberg (TUBAF): The Institute of Nonferrous Metallurgy and Purest Materials at TUBAF and the professorship of biohydrometallurgy and microbiology provide unique expertise on pyrometallurgical, hydro- and bio-hydrometallurgical processing using lab- to large pilot scale processing. Experimental work is combined with flowsheet modelling and advanced thermochemical modelling techniques leading to optimized metallurgical process research and design.