Go back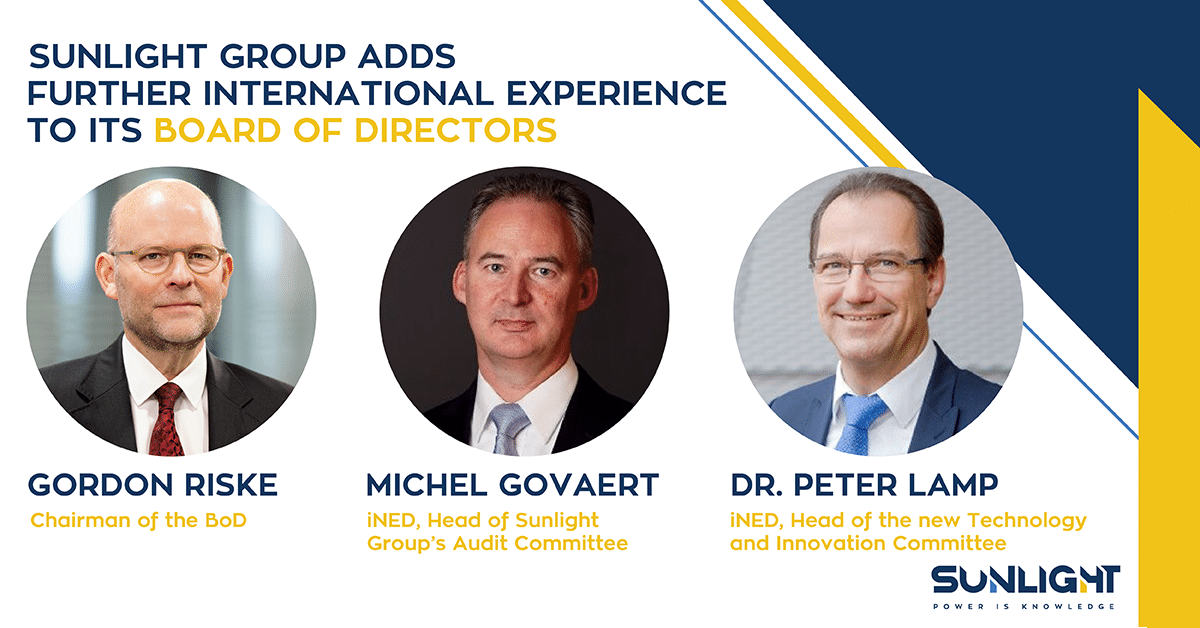 Sunlight Group adds further international experience to its Board of Directors
Athens, Greece, 14 March 2022
Global technology company Sunlight Group Energy Storage Systems (Sunlight Group) appoints its new Board of Directors and names Gordon Riske as Chairman and independent Non-Executive Director (iNED). Also joining the board as iNEDs are Michel Govaert, who will also head the company's Audit Committee, and Dr. Peter Lamp, who will head the newly established Technology and Innovation Committee.
Gordon Riske led KION Group AG for 14 years as CEO and is the incumbent CEO of GRBR Services. He brings to the organization decades of professional experience in management and business administration, as well as a wealth of expertise in automation, digitalization, and high-performance energy systems. His in-depth knowledge of OEMs will assist Sunlight Group further broaden its activities in the respective sector. As Chairman of Sunlight Group's new BoD, he stated: "Sunlight Group is a uniquely innovative company with a clear long-term strategy to provide clean energy storage systems to its customers around the world. I am looking forward to working with the management team and the entire Board of Directors on this exciting journey."
Michel Govaert, current Non-Executive Director and former Group CFO at AOC & ChemicaInvest, started his career at Philips Electronics and has served as partner at Alvarez & Marsal. He is a seasoned executive and expert in finance, development of action-oriented strategies, operational and financial result improvement, and M&As. His experience will be invaluable in Sunlight Group's ongoing corporate transformation to a global technology company, as well as the proceedings of the Audit Committee that he will be heading. Commenting on his appointment, he said: "I am looking forward to working together with the leadership team and board on the realization of Sunlight's strategic ambitions, encompassing significant organic and inorganic growth. Combining this growth agenda with a model of operational excellence and translating this into a path of sustainable results and long-term value creation".
As of May 2022, Dr. Peter Lamp, Head of the BMW Group Battery Cell Technology and the associated worldwide R&D network, will also be joining Sunlight's new Board of Directors. Dr. Lamp has over 30 years of experience in cutting-edge R&D work in the energy sector, which will inspire and lead Sunlight Group's new Technology and Innovation Committee that he will be heading. Regarding his new role, he commented: "I am honored to be appointed as iNED to the Sunlight Group's Board of Directors and looking forward to contribute to the future growth of the company".
The new Chairman and members will collaborate with the existing members of Sunlight Group's BoD, Lampros Bisalas, CEO and Executive Board Director; Rouben Bourlas, Non-Executive Director; and George Tsourapas, independent Non-Executive Director with over 30 years of professional experience at Procter & Gamble, where he served as President of Global Home Care and Professional Products and member of the company's Global Executive Leadership Council. The new BoD will serve a five-year term until 2027.
Lampros Bisalas, Sunlight Group's CEO, noted on the composition of the new BoD: "Gordon, Michel and Peter joining our Board of Directors is a great milestone for Sunlight Group. We're thrilled to welcome them aboard and look forward to learning from their insights and extensive experience. They all have a strong track record of driving growth and operational excellence, in line with Sunlight's strategic objectives. I would also like to thank our existing board members, Robby and George, for helping Sunlight reach this excellent position and for their ongoing support. The new board signals our ambition to expand our successful course and become a true global leader within the energy storage sector."  
Changes to Sunlight Group's corporate governance reflect the organization's global ambition to pursue strategic growth opportunities, following the company's rapid development in recent years and plans for further growth. In 2021, the company announced the initial rollout of its diverse €560m five-year investment plan to expand the capacity of both lead-acid and lithium-ion energy storage products. Investments include upgrades to the company's facilities in the USA, Italy, and Greece. They will render Sunlight's main manufacturing unit in Xanthi the largest in the world for industrial, motive, lead-acid batteries, while also demonstrating the company's commitment to lithium-ion technologies.