Go back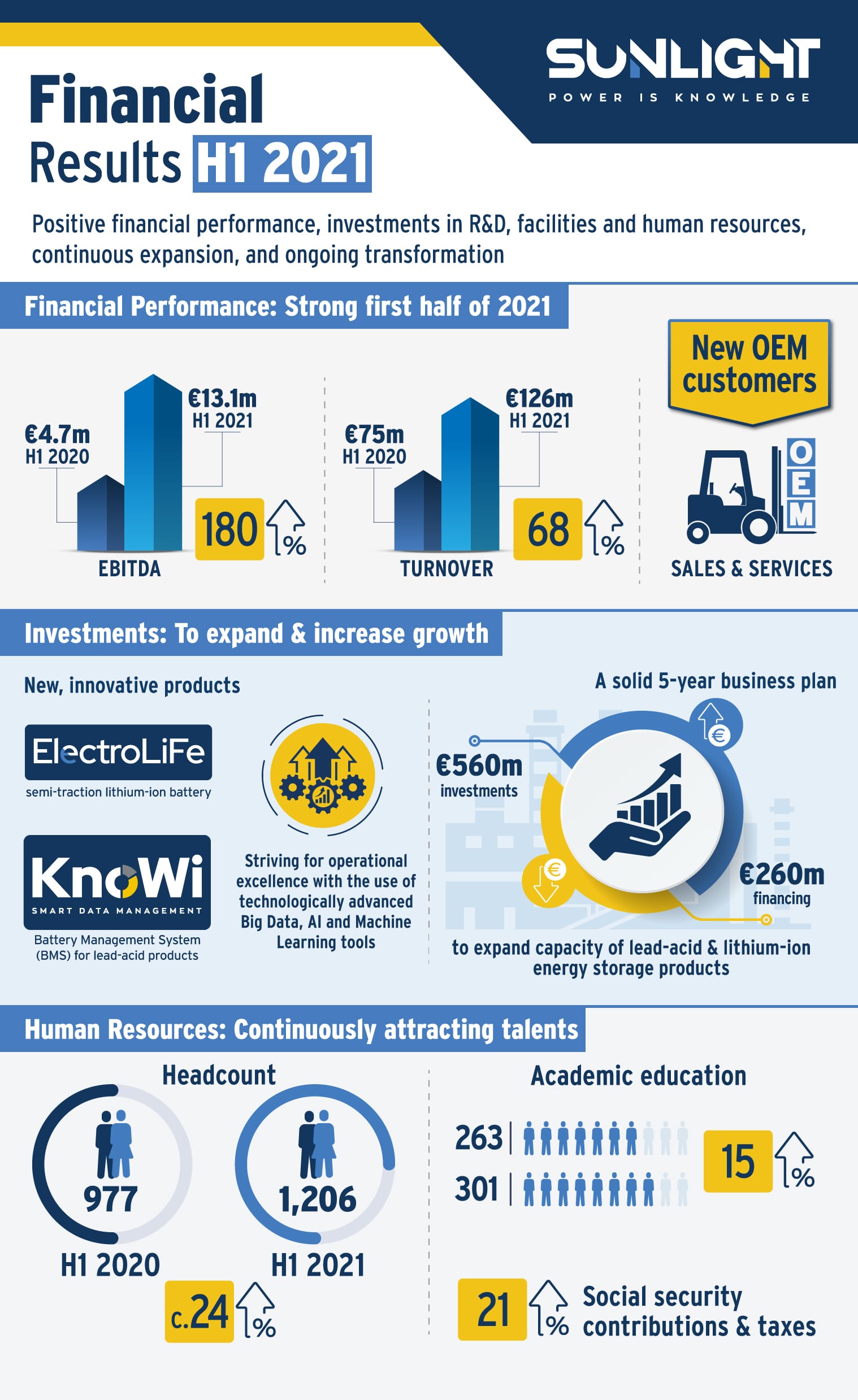 Sunlight Group Financial Results for H1 2021
Featured
Corporate news
Financial
Athens, Greece, 19 October 2021
Strong first half, continuous investments, and ongoing transformation
– Strong financial performance in H1 2021:
€13.1mil EBITDA (vs €4.7mil in H1 2020)

€126mil turnover (vs €75mil in H1 2020)

new Original Equipment Manufacturer (OEM) customers
– Diverse investments to further expand and increase growth
a total of €560mil in investments

+23.4% employees (1,206 in H1 2021 vs 977 in H1 2020)

new and innovative products – ElectroLife and KnoWi
Athens, 19 October 2021 – SUNLIGHT, member of the international investment "Olympia" Group, announces strong financial results for H1 2021 with an 180% increase in EBITDA and 68% increase in turnover, compared to H1 2020. Recording yet another robust financial performance, the company continues implementing its diverse investment plan in facilities, infrastructure, expansion, R&D and human resources. Simultaneously, SUNLIGHT continues maximising production capacity for lead-acid and lithium-ion energy storage systems, as well as developing, producing, and launching new products.
Turnover for SUNLIGHT in H1 2021 amounted to €126mil compared to €75mil during the same period last year, i.e. a 68% increase. This is attributed to the dynamic repositioning of SUNLIGHT in the global market and the addition of new customers, as well as the trust in the company firmly exhibited by the existing customers. Combined with the swift recovery of the market, the company was well-prepared to develop more rapidly than its competitors. And despite the fact that the COVID-19 pandemic brought about significant drawbacks to the sector due to certain shortages –for example in semiconductors, used in industrial vehicles and lithium batteries– SUNLIGHT's positive H1 2021 performance is a testament to its resilience and agility to respond to both challenges and emerging opportunities.
SUNLIGHT also announced that its adjusted EBITDA (Earnings Before Interest, Tax, Depreciation, and Amortisation) for H1 2021 amounted to €13.1mil, compared to €4.7mil recorded in H1 2020. The impressive 180% surge is due to an increase in sales and reduction of production cost –especially in the motive batteries range– the addition of new OEM (Original Equipment Manufacturer) customers, and the expansion of the company's product portfolio. Two new and innovative products were launched in H1 2021: the semi-traction lithium-ion battery, ElectroLife, and the Battery Management System for lead-acid energy storage systems, KnoWi.
Commenting on the release of the H1 2021 financial results, SUNLIGHT CEO, Lampros Bisalas, noted: "I'm very proud of SUNLIGHT's strong first half performance. The results show that we're effectively monitoring and addressing an unprecedented situation, such as the one defined by the pandemic. We accurately identify and navigate risks via robust business planning and efficient mitigation actions. We overcome challenges and create opportunities to complete our transformation into a fast-paced and rapidly growing technology company that specialises in integrated and innovative energy storage solutions and contributes to a more sustainable future. The market is facing strong pressure due to the increased prices of raw material and this is anticipated to affect the wider supply chain for at least the next 12 months. Despite the uncertainty, we feel confident that we shall maintain our positive financial performance for the entire year, and that we have the foundation to perform even better in the years to come."
To further increase production and, consequently, growth, SUNLIGHT is implementing a strategic and diverse investment plan to expand the capacity of both lead-acid and lithium-ion energy storage products. This includes the upgrade of the company's units in Greece (Xanthi and Komotini), Italy (Verona) and USA (North Carolina), with the installation of infrastructure, state-of-the-art machinery, and automated assembly lines. This 5-year business plan entails a total of €560mil. in investments.
Investments are also ongoing in human capital. On June 30th, 2021, SUNLIGHT and its subsidiaries collectively employed 1,206 personnel, i.e., 229 people or 23.4% more than H1 2020. Just the R&D (Research & Development) department has been staffed with 70+ highly skilled researchers and scientists, while the company is dedicated to attracting the most talented professionals available – from both Greece and abroad. And in doing so, maintain and increase its contribution to social security and taxes, which marked a significant 21% rise between H1 2020 and H1 2021.
SUNLIGHT continues its transformation to a technology-agnostic company making the most of Industry 4.0 principles – including use of Big Data, Artificial Intelligence (AI), and Machine Learning Tools. The company also continues upgrading and digitising its production process. And it continues offering better flexibility, functionality and performance in the development, manufacturing and distribution of lead-acid and lithium-ion batteries for industrial and consumer applications.