Go back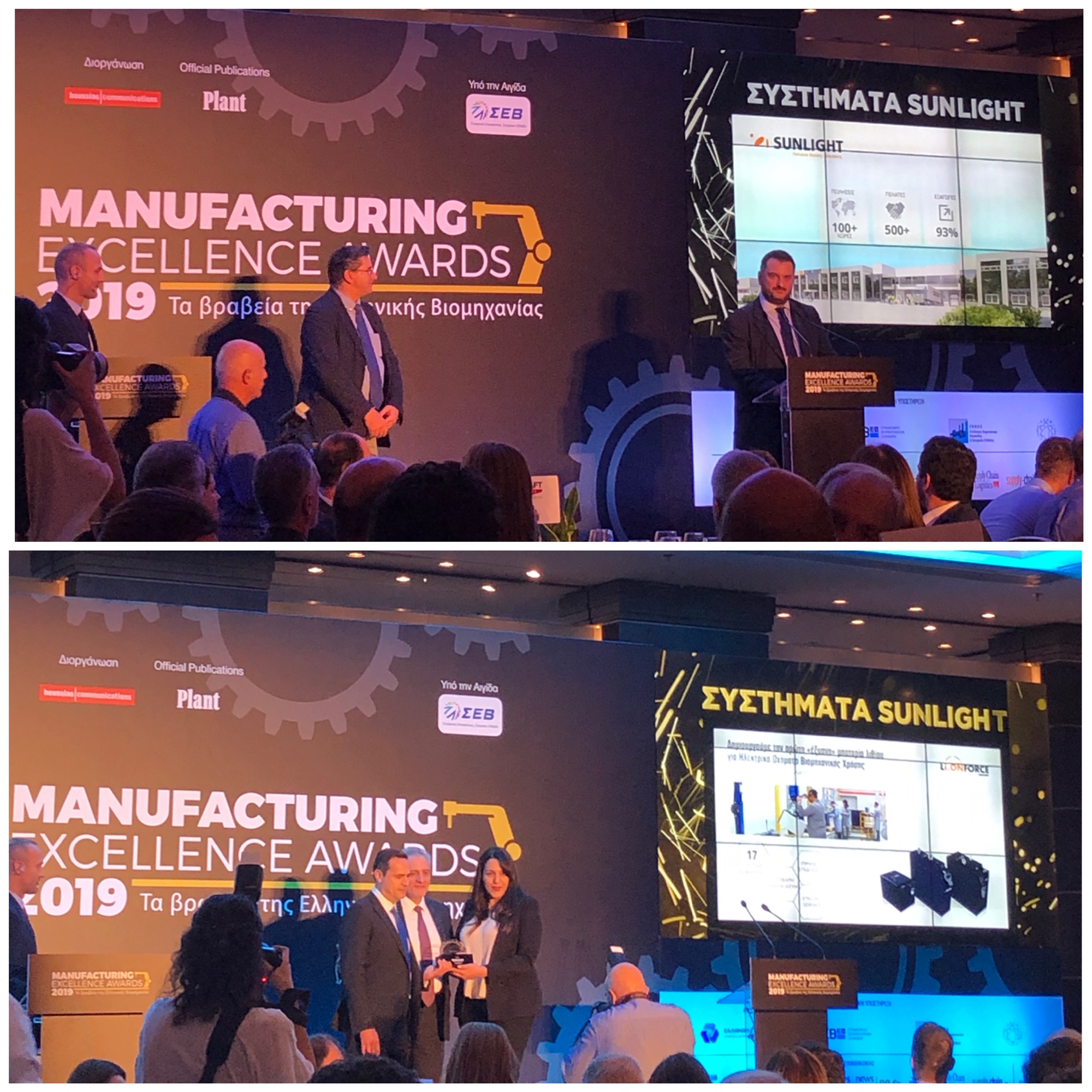 Two major distinctions for Sunlight Group at this year's Manufacturing Excellence Awards
Gold Award in the "Innovative products" category for the first "smart" lithium battery & Silver award in the "Manufacturing Activity with Extroversion" category.
SUNLIGHT, a member of the Olympia Group, won a Gold and a Silver award at the Manufacturing Excellence Awards 2019, confirming once again its leading role in the development and manufacturing of batteries and energy storage systems for industrial applications and advanced technology.
Based on the assessment procedure, the independent members of the Judging Committee, top executives in their sectors, gave SUNLIGHT the GOLD award for creating the first "smart" Lithium Li.ON FORCE battery for industrial electric vehicles, which it launched this year.
The Li.ON FORCE product line stands out from other products on the global market due to its many competitive advantages, which include longer life, significant energy savings, better energy performance and lower total cost of ownership. It boasts 17 safety functions, sturdy construction, ease of use, high performance, and built-in IoT technology. The company's R&D team created the Li.ON FORCE, seeing the rapid developments in lithium technology and using their vast expertise and experience in developing lithium batteries for use in advanced applications.
At the Manufacturing Excellence Awards, SUNLIGHT also took home the SILVER award in the "Manufacturing Activity with Extroversion" category, certifying the company's export profile, which has led to SUNLIGHT's being included among the top energy storage systems manufacturers in the world, as it exports 93% of its production to over 100 countries.
The Silver award in the "Manufacturing Activities with Extroversion" category was accepted, on behalf of Sunlight, by Area Sales Manager Andreas Dimopoulos, and the Gold award in the "Innovative Products" category was accepted by Pelagia Alexandridou from the Lithium Business Unit's Industrial Lithium Technical Development department.