Go back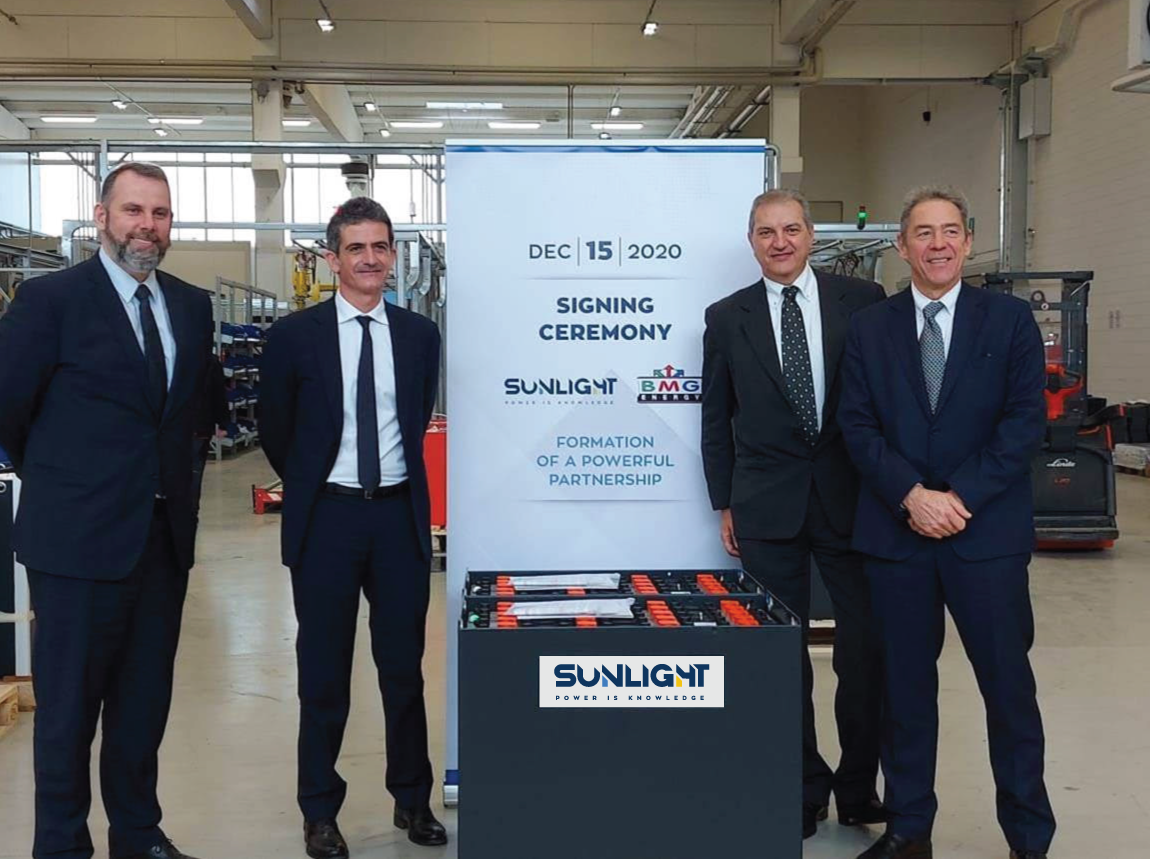 Sunlight Group creates joint venture in Italy
Featured
Corporate news
Financial
Energy storage manufacturer SUNLIGHT and BMG Energy join forces to create a leader in the Italian market and better serve their customers! 
SUNLIGHT, the energy storage manufacturer and BMG Energy join forces to create a large-scale sales and service organization which will enable them to further expand in the Italian market and become a market leader. This will lead to newly formed joint entity that will be owned 78% by SUNLIGHT and 22% by BMG Energy.
This move is part of SUNLIGHT's strategy to establish a strong presence in large markets. Especially on the Italian market SUNLIGHT is rapidly increasing its footprint with a total investment plan reaching 5M for the years 2018-2022.  The outlook for the next 5 years is to expand dramatically the revenues targeting a 9 figures range.
SUNLIGHT has already a significant presence in Italy through its assembly unit, SEBA (SUNLIGHT European Battery Assembly), established in 2018 in Verona.  The business model of SEBA was and remains to serve Western European Markets with complete batteries as well as OEMs in Europe.
"We see Italy as a strategically significant market and value the long market experience of our partners" says Lampros Bisalas, CEO of SUNLIGHT. "Our long and close cooperation has helped us form a unique partnership. We believe this move will increase our footprint in the region, help us enrich our product and services portfolio offering and meet the needs of our customers in the Italian market".
Sunlight Group will appoint Mr Davide Pesce as CEO of its Italian operations and Sunlight Italy will focus in the local Italian sales and service expansion in both lead and lithium technologies across all industries. Mr Pesce has a wealth of experience in the storage energy market with a proven track record in international competitors such as Enersys and Exide. He holds a bachelor's degree on Physics from Università degli Studi di Bari.
"Joining forces with SUNLIGHT will only provide a unique leverage to us and our customers. The innovative product portfolio along with SUNLIGHT's mission to become a technology agnostic company, provide confidence to our leadership team that this can only be a fruitful partnership." said Mr. Wilhelm Menghin & Mr. Flavio Scaramuzza, BMG Energy CEOs. 
This strategic move contributes to the company's staggering upward trajectory which has seen to increase its capacity by 25% (2020), enter the US market, and the expand its R&D division for lithium technologies.
These agreements come at a time where Europe is gearing up for a green energy transition, with all sectors urged to electrify to meet Europe's 2050 net-zero greenhouse gas emissions ambition. SUNLIGHT is already playing an active role in such transition with its range of lead-acid and lithium ion batteries servicing the industrial, renewables, e-transport and marine sectors.
The agreement was completed on 15th December 2020.