Go back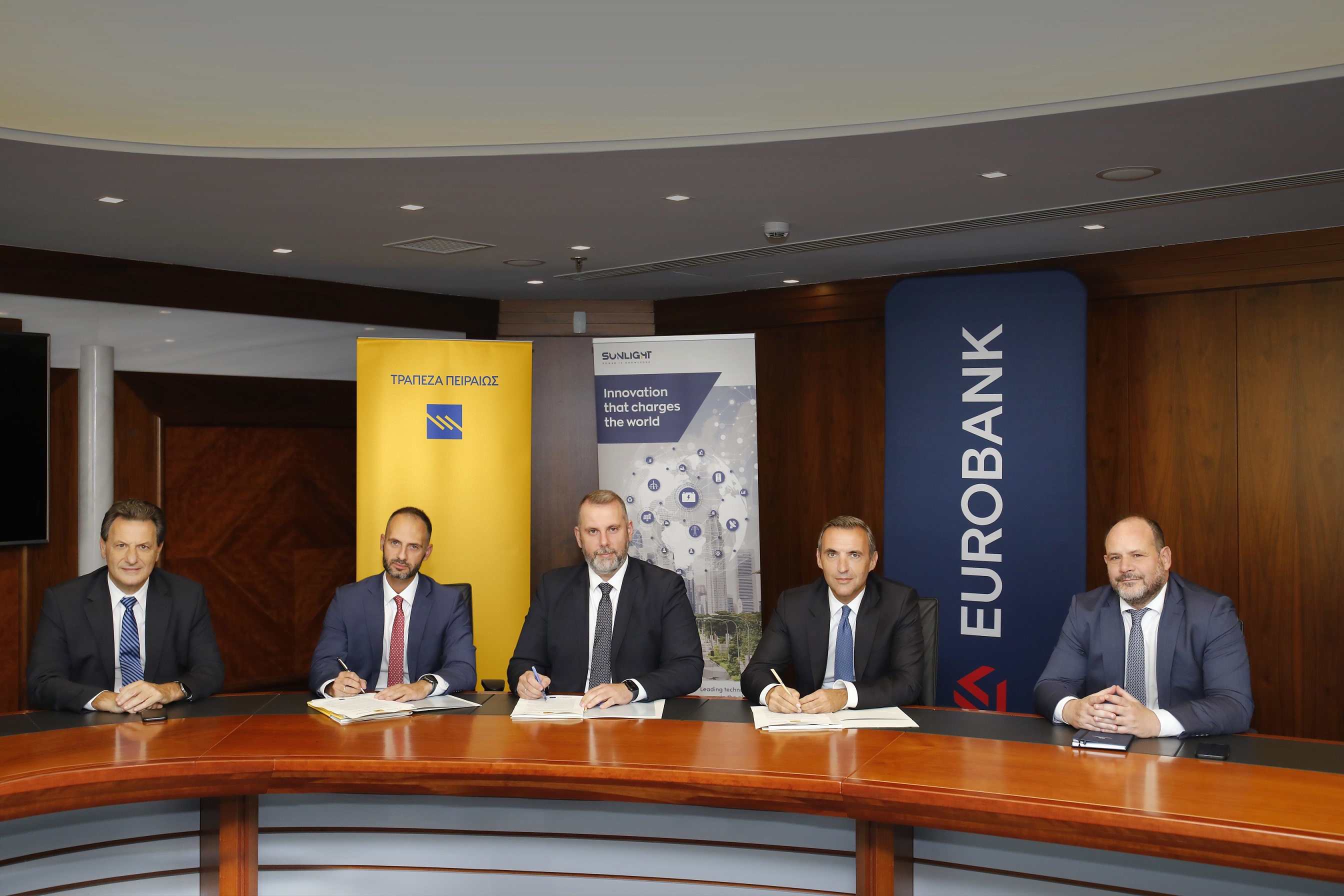 Sunlight Group receives funding from Recovery and Resilience Facility and Greek banks for €175m investment project
Athens, Greece, 28 September 2022
The agreement concludes the funding of Sunlight's 5-year business plan.
Sunlight Group technology company specializing in innovative industrial mobility and energy storage systems, announces the official signing of a €140m syndicated funding agreement, as part of the National Recovery and Resilience Plan "Greece 2.0". Sunlight Group receives the funding as an export-focused company to implement its Investment Project "Extension and modernization of the existing production capacity". Piraeus Bank serves as Coordinator, Arranger and Bondholder and Facility Agent of this syndicated funding, and both Piraeus and Eurobank are co-organizers.  
The signing ceremony took place on Tuesday, 27 September 2022 in Athens, and was attended by Theodoros Skylakakis, Alternate Minister of Finance responsible for the National Recovery and Resilience Plan; Nikos Mantzoufas, Governor of the Greek Recovery and Resilience Fund Agency; Lampros Bisalas, CEO of Sunlight Group; Theodore Tzouros, Executive General Manager, Chief Corporate & Investment Banking of Piraeus Bank; and Konstantinos Vassiliou, Deputy Chief Executive Officer of Eurobank.
Sunlight Group's Investment Project has a total budget of €175m and pertains, inter alia, to the construction of new energy-efficient buildings, the addition of state-of-the-art mechanical equipment, and the further automation of the production process at Sunlight facilities. The investment falls under the "Extroversion" pillar of the Recovery and Resilience Facility, while also significantly contributing to the other pillars of "Greece 2.0", such as green transition and digital transformation. 
The funding of the Project includes the issuing of a long-term €140m syndicated bond loan, utilizing €87.5m of Recovery and Resilience Facility funds and €52.5m from Piraeus Bank and Eurobank, with the former also serving as Bondholder and Arranger. The remaining 20% of Sunlight's investment project, amounting to €35m, is covered by own funds.   
Commenting on the agreement Minister Skylakakis stated: "An innovative investment plan amounting to €175m and pertaining to energy storage begins implementation thanks to the National Recovery and Resilience Plan 'Greece 2.0'. Sunlight Group has secured €140m in funds for an extrovert project, supporting green and digital transformation. The Recovery and Resilience Fund is an important investment tool for businesses and investors with the vision to develop high valued products and services".
Governor Mantzoufas added: "We're very happy that the Greek Recovery and Resilience Fund is a catalyst for export-focused investments that add value to the Greek economy. This is an emblematic investment, combining industrial production, extroversion and innovation, and contributing to digitization and the fight against climate change". 
Mr. Bisalas, CEO of Sunlight Group, stated: "Funding from the European Recovery and Resilience Facility and the Greek banks acknowledges the effort of our long-term strategy in energy storage. We aim at top-notch innovation and vertical production of lithium technology in Greece, which will supply the global market while also creating value domestically. These funds support the great investments we are already implementing to establish R&D centers, install automated industrial infrastructure, and develop 'smart' products that contribute to green and digital transition; to the economy and employment; to innovation and research – i.e., to all of the pillars comprising 'Greece 2.0'. We have now completed the funding of our 5-year business plan, according to which we continue our dynamic growth and expansion. In that context, we create more than 2,000 jobs in northern Greece, in some of the least privileged areas of our country, where our domestic facilities are located. And thus, we significantly contribute to the local and national economy. The support of our shareholders and the financial community, along with the trust of our customers, is our driving force to establish Sunlight Group as a global leader in technology, innovation, and the production of batteries for industrial and off-road applications, as well as energy storage systems."   
Mr. Tzouros, Executive General Manager of Piraeus Bank, noted: "This transaction verifies the tangible support that Piraeus Bank provides to businesses that hold a growth vision, are extrovert in nature and focus in implementing innovative investment plans in the context of the main pillars of the National Recovery and Resilience Plan 'Greece 2.0'. Piraeus Bank's specialized human resources and expertise allows us to promptly assess and implement eligible investment plans. Our aim is to contribute to the overall effort for the restructuring of the country's productive model and the enhancement of our national economy's growth prospects, establishing a new era for entrepreneurship and society." 
And Mr. Vassiliou, Deputy CEO of Eurobank, concluded, "The signing of this agreement marks the beginning of a very significant investment in energy storage systems, with great added value for our country. At Eurobank, we feel very honored to participate at this project, aiming to extend and upgrade Sunlight's existing capacity across its facilities; a company developing innovative products and promoting extroversion. Our strategic priority remains to offer our customers complete banking solutions in order for them to implement their investment plans".