Go back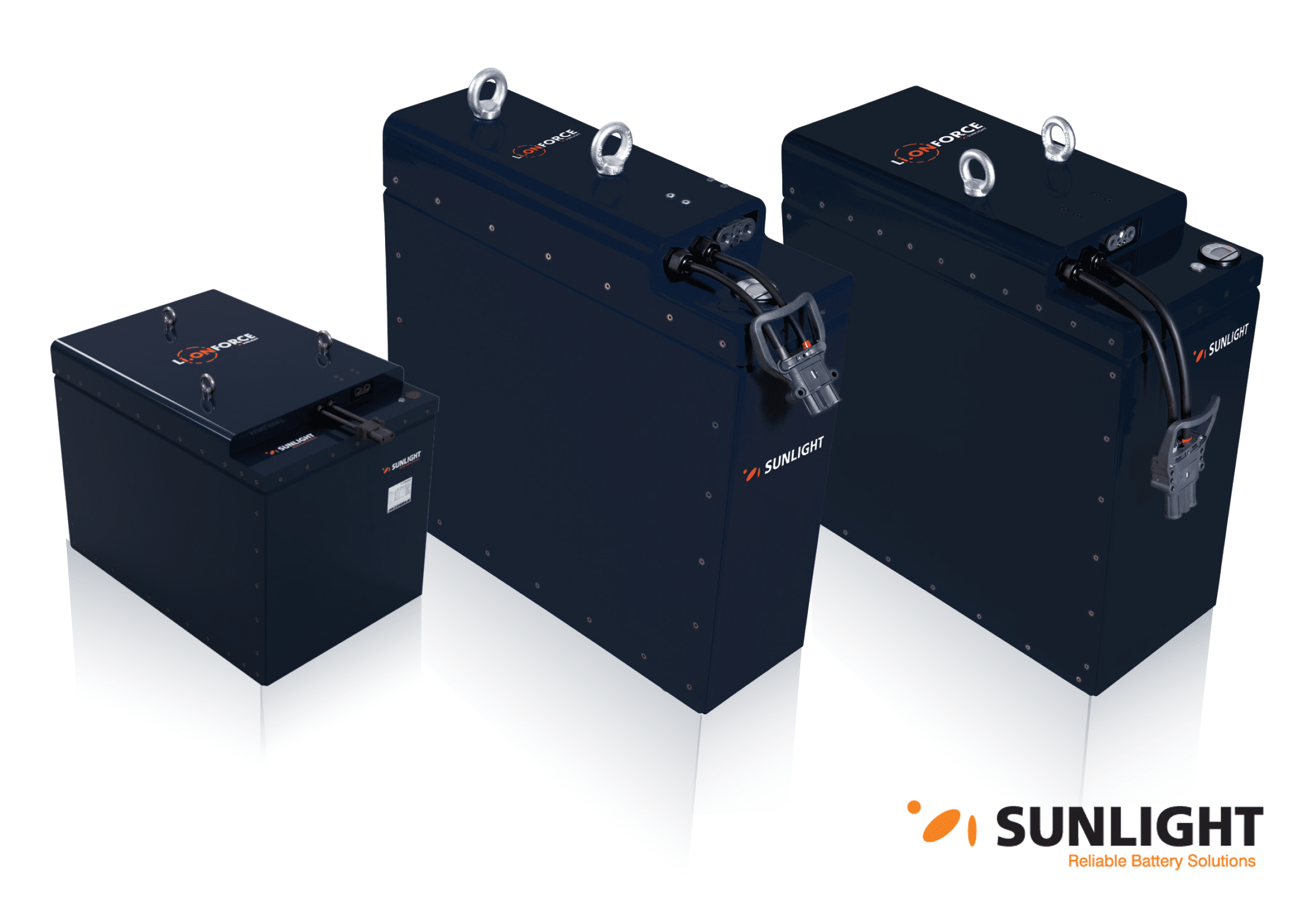 Sunlight Group develops the first "smart" Lithium battery for eIVs (electrical Industrial Vehicles), dynamically entering the up-and-coming lithium battery market
With revolutionary "smart" Lithium battery technology, SUNLIGHT is establishing itself as one of the largest battery producers globally for industrial vehicle applications.
ON FORCE, the revolutionary line of products, which combines lithium ion technology, marks Sunlight's entrance into the market

Sunlight carries significant experience in the development of lithium batteries for advanced applications, having obtained a certification, through its subsidiary company, by a German certification body

SUNLIGHT's line of Lithium batteries incorporates smart factory applications, as it provides the global technological innovation GLocal (real time online monitoring via Cloud).

Investment amounting to 6 million euros up to now and further investment plan
Specialist battery company SUNLIGHT and a member of Olympia Group, today announced its entrance into the very promising market of lithium batteries for electrical Industrial Vehicles (eIVs).
Having carried out a multiyear intensive research plan, SUNLIGHT presented Li.ON FORCE, the first line of "smart lithium batteries" for electronic Industrial Vehicles. SUNLIGHT enters this market with a lead, as it has gained great technical know-how in the demanding field of producing lithium batteries for advanced applications through a subsidiary.
Li.ON FORCE, the new, revolutionary series of "smart batteries" represents a global innovation and combines the advantages of batteries featuring lithium technology with innovative applications of Industry 4.0 technology which pertain to the use of Internet of Things technologies in industry. SUNLIGHT presents for the first time in the international market a lithium battery which provides GLocal, the global technological innovation offering real time and two-way communication via Cloud. With 17 levels of security, heavy-duty construction, usability and high performance, Li.ON FORCE sets itself apart from any other product on the market internationally.
It is worth mentioning that today SUNLIGHT plays an important role in the international lead battery market for Electronic Industrial Vehicles (eIVs) maintaining a share that approaches 10% of the global volume of sales in this field. SUNLIGHT already enjoys a significant lead in European markets, such as Germany, Spain, Italy and others, where rapid growth in lithium technology is expected, with a large share and an extended client base, while it is already present in the US and Indian markets, where its shares are increasing at a great rate.
Vassilis Billis, the company's CEO stated in this regard: "The intensely positive progress in the field of Electronic Industrial Vehicles (eIVs), where lithium batteries can be applied, makes us especially optimistic. This pertains to a market which is growing at an average annual rate exceeding 7% until 2030, a fact that ensures SUNLIGHT's dynamic course.
We lead the way in this market with Li.ON Force, the first lithium technology "smart" battery for Electronic Vehicles which incorporates  unique innovations on a global level. This product is the result of advanced design by young Greek Engineers, as well as SUNLIGHT's cumulative technical know-how in the production of lithium batteries".
Revolutionary technology
Numerous advantages
The new ion lithium products with certified quality and safety in the Li.ON Force line features numerous advantages:
A long lifespan

Zero maintenance cost

A short charging time and capability of opportunity charging

Great energy storage ability

Great energy performance during charging and use

Improved performance, even in very demanding applications

Low TCO – Total Cost of Ownership
GLocal: Global technological innovation
The Innovative Active Battery Management System (BMS) records data and sends it in real time through Cloud to the SUNLIGHT control centre, providing the ability for continuous monitoring of the status of the battery, statistical analysis of its performance, diagnosis and remote troubleshooting of technical issues during operation of the battery with two-way communication.
Innovative Active Battery Management System (BMS):
The batteries in the Li.ON FORCE line are equipped with SUNLIGHT's state-of-the-art "smart" BMS (Battery Management System), which provides innovative safety in operation, as well as the significant benefits of advanced design for the effective balancing of voltages of the lithium elements during both charging and discharging of the battery.