Go back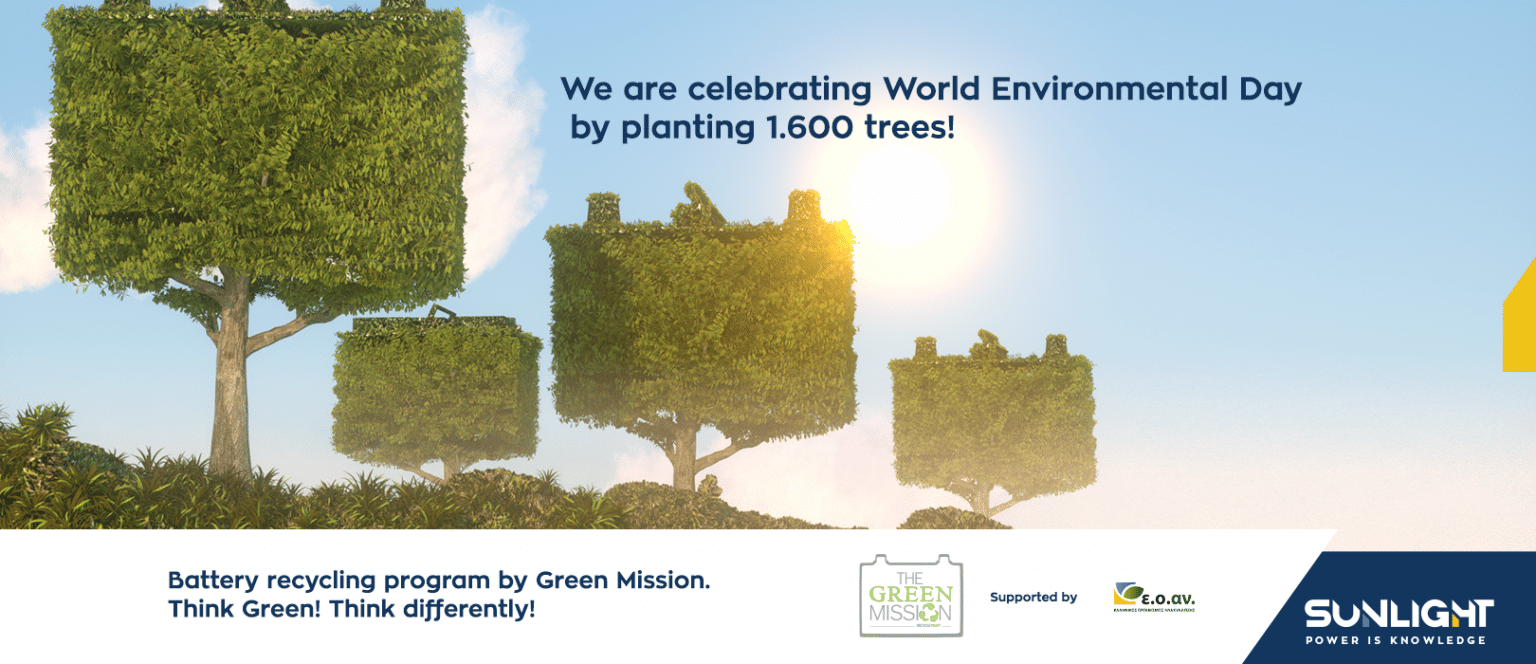 Sunlight Group signs the Environment Day
SUNLIGHT, through the Green Mission battery recycling initiative, launches a comprehensive tree planting and information action program
SUNLIGHT, member of Olympia Group, on the occasion of the Environment Day, announces a complete tree planting plan, through the Green Mission initiative. The company has for long time now recognized the important opportunities that the circular economy offers for businesses, both in terms of economic growth and competitive advantage, as well as in terms of environmental protection. In this context, since the year of 2015 when the operation of Sunlight Recycling unit commenced and up until today, the Company has collected and recycled more than 108,000 tons of old batteries and other recyclable materials at the Komotini facilities, Greece. At the same time, the company has already started through the new state-of-the-art lithium research center the study for the recycling of batteries and the minimization of hazardous solid lithium waste.
Guided by its fundamental values and with the protection of the environment as priority, SUNLIGHT, through its environmental action plan called "Green Mission", is committed to offer for each ton of batteries that it recycles in the recycling unit and in the context of this program, two trees to be planted. It is estimated that for the 800 tons of batteries it collects and recycles each year through the Green Mission action plan, the Company and its people will plant more than 1,600 trees, equivalent to approximately 187,200 kilograms of oxygen per year and also equivalent to absorption of 35,200 kilograms of carbon dioxide. As part of the project, SUNLIGHT is collaborating with the global non-profit Environmental Organization "we4all", which was created to actively support the planet and raise awareness among people.
The tree planting will take place in the autumn of 2021 and the spring of 2022 throughout Greece and in the wider region of Xanthi and Komotini, strengthening the strong ties that the Company maintains with the local community, through its two production units in these particular areas.
On the occasion of the Company's actions for the environment, Ms. Ioanna Gavrielatou, Marketing Director, stated the following: "As one of the largest companies in world production of industrial batteries and energy storage systems, we stand responsibly towards society. This initiative reflects our commitment towards the sustainable development and the principles of circular economy. Consistently we take action and open the way to green culture and environmental awareness".
The Green Mission is an environmental action of dozens of companies, from various business sectors, agencies and organizations, which have a common vision to contribute to the protection of the environment. Its members are committed to the proper recycling of lead-acid battery waste, which can reach up to 95%, based on the state-of-the-art technology that is currently available.