Go back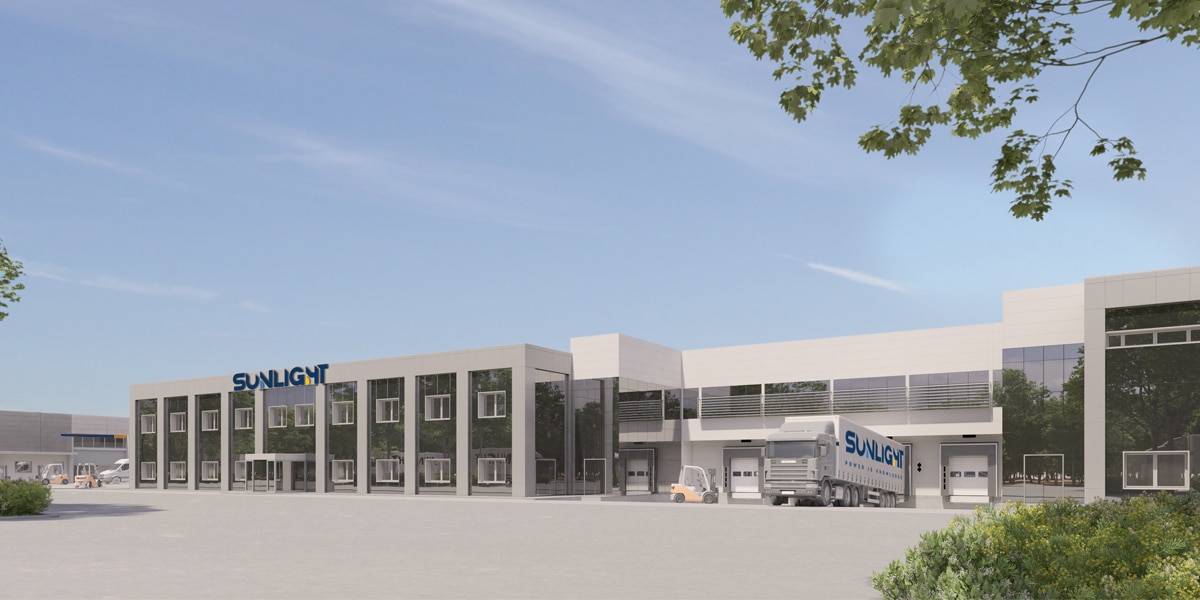 Sunlight Group expands world's largest manufacturing unit for motive power batteries
Featured
Corporate news
Financial
Additional €50m investment boosts production capacity to 7GWh by Q3 2022
SUNLIGHT invests an additional €50m at its Xanthi, Verona and North Carolina plants that will increase battery manufacturing output capacity to 7GWh annually:

€30m will be invested in the production of lead-acid batteries, increasing the Xanthi unit's capacity from 4GWh to 5.3GWh, the largest output in the world for motive power lead-acid flooded products.

€20m will be invested in the production of lithium-ion batteries, adding 1.7GhW in annualised assembly capacity.

This is added to a €105m investment at the company's Xanthi plant for the R&D and prototype production line for lithium cells.

Increased production will be supported by the company's lead recycling facility, supplying 60% of raw material requirements in lead and reducing demand on natural resources.
Athens, Greece, 02.09.2021 – SUNLIGHT, global technology company of industrial and advanced energy storage solutions, announces the implementation of a €50m investment plan for infrastructure, machinery, and new production-assembly lines for both lead-acid and lithium-ion technologies. The larger part of the investment, €30m, regards the expansion of existing infrastructure with automated, state-of-the-art machinery in SUNLIGHT's lead-acid battery plant based in Xanthi, northeastern Greece, as well as further expansions of its assembly plants in Verona, Italy and North Carolina, United States. The upgrade will increase annual production capacity of lead-acid motive power products from 4GWh to 5.3GWh gradually until Q3 2022 and will render the Xanthi-based manufacturing unit the largest in the world for industrial, motive, lead-acid batteries.
An additional €20m is being invested in the production of lithium-ion batteries, with the installation of three highly automated assembly lines for lithium modules and complete lithium battery systems, as well as one assembly line for prototyping and R&D purposes. This investment will accommodate the company's goals to offer global markets integrated lithium products for off-road mobility, industrial use, and Energy Storage for renewables. Production is anticipated to begin by Q3 2022 and deliver 1.7GWh in annualised capacity, while additional space has already been reserved with the potential to more than double capacity up to almost 4GWh.
This latest €50m investment brings SUNLIGHT's total committed CAPEX spend for 2021-2023 to €180m, with €150m committed to the expansion of lithium production and €30m committed to the respective lead one.
SUNLIGHT's investment and expansion plans follow the implementation of innovative and technology-forward concepts in the company's dual production of lead-acid and lithium-ion batteries in the motive and energy storage sectors:
development of energy management systems with the use of Big Data analysis, AI and Machine Learning tools.

establishment and operation of a lead recycling plant which supplies 60% of required raw material, in alignment with the circular economy business model.
Commenting on the developments, SUNLIGHT CEO Lampros Bisalas stated: "We are thrilled to announce an additional €50m investment that's fully aligned with our strategic objective to play a key role in both lead and lithium battery technologies. The investment is already under implementation, and we're excited for the new, state-of-the art machinery to be installed and further expand our capabilities. At SUNLIGHT we're keen to meet both current and future demands in the off-road mobility and RES energy storage, by scaling up capacity and rendering our Xanthi industrial park a true giga-factory. We also continue integrating production to offer our global customers complete battery systems of high innovation, safety, and quality. And lastly, we are excited to support our increased production output, expanding our new assembly facilities in Italy and the US."