Go back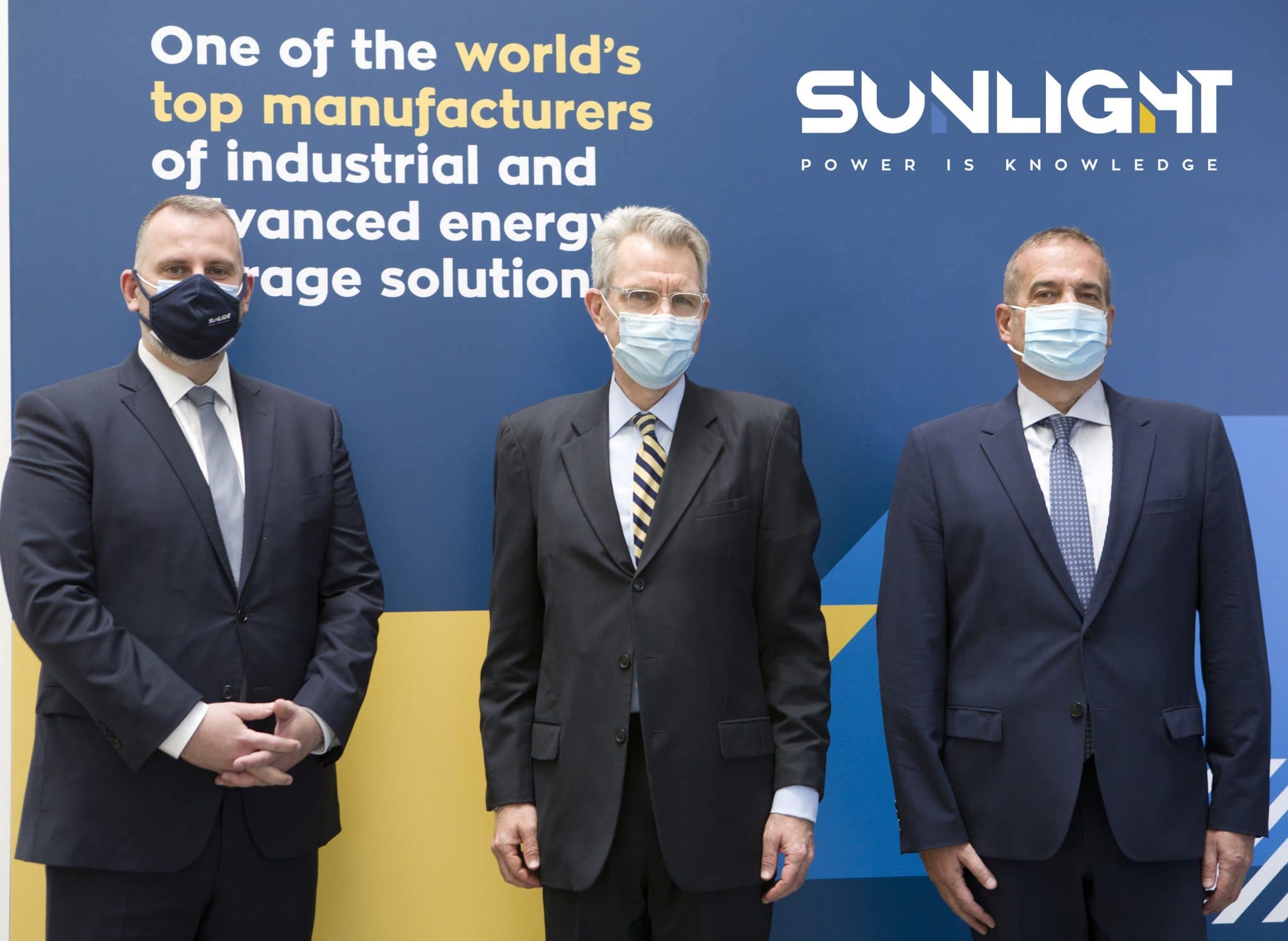 The Sunlight Group Welcomes U.S. Ambassador to Greece Geoffrey R. Pyatt in Athens Headquarters
Highlights Investment in U.S. and Role in Sustainability. Discussion on Climate change, circular economy and renewable energy storage
SUNLIGHT, a leading, global manufacturer of industrial and advanced energy storage solutions, welcomed His Excellency the U.S. Ambassador to Greece Geoffrey R. Pyatt in its Athens headquarters today, to discuss the company's long-term investment plan in the US market as well as the opportunities created for sustainable and green energy projects, as the world transitions from hydrocarbons to renewables.
SUNLIGHT partners with businesses and communities to shape a sustainable future based on renewable energy and technology innovation. The company has recently launched a US subsidiary in North Carolina, SUNLIGHT BATTERIES USA and has completed the first phase of a $150 million investment plan, which will span over the next two years, to better serve US customers, maximize the plant's capacity, expand the number of staff to 100, while also contributing to the growth of the lead and lithium battery market in the United States.
U.S. Ambassador to the Hellenic Republic Geoffrey R. Pyatt stated "Systems Sunlight is a great example of an outwardly-oriented Greek company that is contributing to our common effort to meet the challenge of climate change through clean energy technology.  Now, expanding its operations on both sides of the Atlantic, Systems Sunlight is showing how investments by the U.S. and Greece in innovative energy technologies can help our environment while creating jobs and prosperity for both Americans and Greeks."
SUNLIGHT CEO Lambros Bisalas stated: "It was a great honor to welcome His Excellency the U.S. Ambassador to Greece Geoffrey R. Pyatt in our Athens headquarters. We have numerous reasons to be optimistic about our company's sustainable growth and the future of green energy. We believe that customers in the US market should feel confident to invest in green energy solutions from reliable manufacturers, with proven expertise and strong commitment to innovation. We are seeking long-term partnerships and ventures in the US market, hoping to enhance our position and to play a role in encouraging investments and successful trade relations between Greece and the United States."
SUNLIGHT has already launched its largest battery assembly plant for lead-acid & lithium business lines in the US market and over the past nine years it has built a dynamic presence and established 15 strategic partnerships. The company will continue to pursue initiatives that create new business prospects and enable the development of high-quality products for its customers, thus consolidating its leading position.
SUNLIGHT's energy storage technologies power the world's sustainable cities, its innovative solutions drive e-mobility applications in industry and transport, while its circular economy approach is a benchmark for the industry.